The Race Series 

powered by Junction 311
2023 Race Series Rules:
– Participate in 5 races in the series calendar year to be eligible for awards
– Virtual races counts for the 5 required finishes (earning 10 participation points). 
– Run as many races as you can. We will score all of your races.
– Awards presented to the top 3 male and female overall and age group
– Special invitations to ongoing series socials, gatherings and special events through the year
– End of season celebration for all series qualifiers
– Over $5000 worth of awards and prizes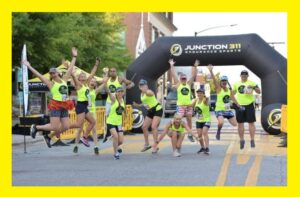 2023 Race Series Schedule
All the best races in the Triad! Click on any race below to get more info.
Waggin' Wild 5K – March 4, 2023
Greensboro, NC
Waggin' Wild 5K is a run-walk for people of all ages.  Individuals, teams, competitive runners and leisurely strollers all participate in this fundraiser. Vaccinated and well-mannered leashed pets are welcome, family participation is encouraged!
PTI Run on the Runway – March 25, 2023
Greensboro, NC
The PTI Run on the Runway 5K/10K will be held on the airport's 9,000 foot runway. This certified run will benefit The Second Harvest Food Bank of Northwest NC, Greensboro Urban Ministry and Open Door Ministries. All are invited to come out to run/walk the runway. The 5K/10K on the runway provides a smooth and flat surface. The entire race course will provide a close up view of the airport and surrounding area from the airfield.
CraftHalf Half Marathon & 5K – April 30, 2023
Winston-Salem
The event is a celebration of running, the community and a kickoff celebration to North Carolina Beer Month. We have partnered with Foothills Brewing to bring you 8th annual Craft Half Marathon, 5K, Kids Dash and community block party! Come celebrate North Carolina with running and craft beer and with the Triad's premier spring distance race!
May the Course be with You 5K & 10K – May 6, 2023
Greensboro, NC
Celebrate the spirit of May the 4th and kick it into hyper-drive for the 5th Annual Star Wars-themed 10K, 5K, and Fun Run! May the Course Be With You, sponsored by Dr. Steve Lucey of Sports Medicine and Joint Replacement, includes a Costume Contest, opportunities for fundraising for our charity beneficiary, and LOTS of prizes! Check out our website for more details, including a FREE 10-week training program with Greensboro's official RunnerDude, Thad McLaurin! And remember, the Force will be with you. Always.
Rotary Club of Kernersville 4th of July 5K Run – Saturday, July 1, 2023
Kernersville, NC
In 1997, we began an annual 4th of July 5K Race that precedes the 4th of July Parade. The route follows the parade route through downtown, so participants get a chance to run before a large, cheering crowd. Thanks to generous sponsors as well as entry fees, this is one of our club's largest fundraisers of the year.  Proceeds go to support the many projects our club manages to benefit the local community.
Freedom Run 10K & 5k – Tuesday, July 4, 2023
Greensboro, NC
Kick off your 4th of July weekend with the Triad's longest continuously produced race, the Freedom Run 10K & 5K. Come run in honor and support of Military personnel who protect and defend our freedom. Deck yourself out in a patriotic costume and show off your American spirit!
Moonlight Madness 5k & Monster Mile* – Friday, September 22, 2023
Winston-Salem NC
The Moonlight Madness 5K & Monster Mile is a great way to end the summer. The timed Monster Mile AND the Two-Headed Monster is back this year at Bailey Park!  The course is an evening event where some of our fastest finishes have been recorded. But this event is also for the less serious running crowd. Grab your friends and dress in your best glow outfit and party like it's 1999. 
*DOUBLE POINTS OPPORTUNITY! *
Cannonball Marathon, Half Marathon & 5K* – October 13 & 14, 2023
Greensboro, NC
The Cannonball is one of the longest-running endurance events in North Carolina. It features the "DOUBLE BARREL" challenge with the 5K on Friday evening so you can run the 5K AND either the 10K, half or full on Saturday. Two parties plus extra medals and schwag!
We have seen blazing fast times in previous years for the half, but don't be fooled the course isn't a walk in the park. The race is also perfect for the beginner runner because of the gorgeous scenery. The backdrop for the race is Country Park and the beautiful north Greensboro countryside.  Country Park, with the Greensboro Science Center next door, is a great place for the family to hang out listen to our live band while you run.
*DOUBLE POINTS OPPORTUNITY!
Hit the Brixx 10K/5K* – October 21, 2023
Greensboro, NC
Hit the Brixx 10K/5K runs through some great Greensboro neighborhoods with great fall colors. Get your spook on and wear your best Halloween costume! If you really rock your Halloween get-up, you just might be in for a special treat! Be sure to join us after the races for pizza and beer at Brixx Pizza on Westover Terrace! The post race party at Brixx runs from 8:30 am through 11:00 am.
Hit the Brixx is a non-profit event with 100% of the net proceed being donated to the Leukemia and Lymphoma Society.
*DOUBLE POINTS OPPORTUNITY! *
Zero Prostate 5K – November 12, 2023
Greensboro, NC
The ZERO Prostate Cancer Run/Walk – Greensboro features a 5K run/walk and Kids' Superhero Dash for Dad. Participants will receive a finisher's medal and the opportunity to impact those affected by prostate cancer.
Downtown Jingle Jog 5K – December 9, 2023
Greensboro, NC
Twas the Run Before Christmas and all round the town, the Santas were jogging . . . nowhere was a frown!
Join us in this new expansion of our Downtown Greensboro holiday celebration. The event is brought to you by Downtown Greensboro Inc (& sponsors) along with Junction 311 Endurance Sports, some of the "locals" behind the Fun Fourth Freedom Run.
Not only do you get a great race, but you also have the opportunity to enjoy everything that Downtown Greensboro has to offer for the holiday season!
Tis the season to celebrate!
Jingle Jog 5K – December 16, 2023
Winston-Salem, NC
Come join us in Winston-Salem for a great run and some Christmas fun! There will be costumes, food, drink, and a special medal that is also an ornament for hanging on your tree.
In addition to the custom finishers medal ornament, all 5K participants receive a santa hat, race shirt, and a craft beer from Radar Brewing.
We are DOG friendly! Bring your favorite four-legged friend. If they are dressed for Christmas, they just may win a prize! There will be treats and we will have water bowls at the water stops!